Fast Track Your Career- Become A Wedding Planner Online Course
Wedding Planning is a hot choice amongst  female entrepreneurs wanting to get into the events industry, and thanks to La Mode College- becoming a Wedding Planner and accomplishing the job of your dreams can be that much easier with the launch of  La Mode's 'Become a Wedding Planner -Fast Track- Online Course!'
The Wedding Industry in Australia is alive and well – with over 120,000 weddings happening each year Australia wide!
According to a report by 'The Knot'- a leading bridal publication,  the national average cost of a wedding is $28,427.
This is BIG business – making it a hot choice for a career path!

The Australian Wedding Industry And Why You Should Become A Wedding Planner
Australians spend around $4 Billion dollars each year in the wedding industry.
It seems you can't put a price on love – as many brides still continue to live out their fairy tale dream in style.
The below chart shows on average what a Bride spends per wedding service/item.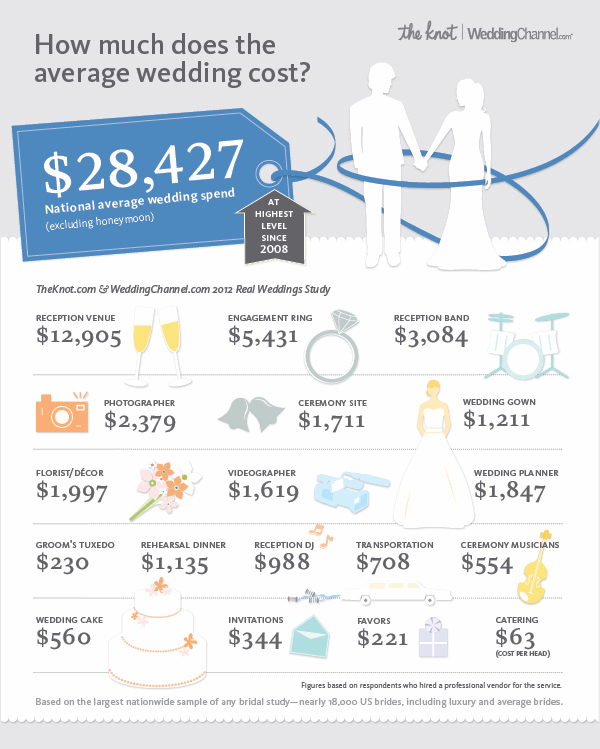 How To Become A Wedding Planner- Expert Tips In  Completing A Online Course Fast!
Event Management and Wedding Planning has always been a highly desirable career choice, largely because of its glamorous appeal and dynamic work culture. Let's face it, who doesn't love going to a good party or wedding?
However because of the glamour appeal of the job, and high interest in the profession the competition can be fierce.
The chances of actually getting a job as a professional wedding planner or wedding coordinator can be very slim if you don't have any prior qualifications or on the job experience.  After all- a wedding only happens once- you can't mess up someones dream day… so employers are looking for candidates that know their stuff.
So how can you get the job you have always dreamed of?
Well a fast track online course in becoming a wedding planner can be your ticket to the job of your dreams!
Your Fast Track Path To Become A Wedding Planner- The Online Course To Get You There!
La Mode's  Wedding Planning Success Course is here to help you through the process, by providing a step-by-step guide to getting started and becoming successful in your new career as a wedding planner. This course will help you gain the skills, knowledge and confidence you need to oversee all the details of a wedding, and to prepare for a magnificent event!
What WPI's Fast Track Online Course Includes:
How You Can Profit From Your Passion and Succeed
The Top Industry SECRETS to Professional Wedding Planning
How to take a Hobby and turn it into a Business!
How to beat the competition and stand out from the crowd
Step by Step process on how to Quit your Day job and Start Your New Career
How to get Wedding Bookings and how much you should charge
Why Many Fail, and how to Avoid Making those costly Mistakes
The current economic market and how  to capitilize
5 Awesome Ideas on how to make money in this industry
Easy STEP by STEP Guide on Preparing a jaw- dropping Weddings
How to get that WOW Factor in your decor and styling!
The Cheats way to Creating Unique Events that STAND OUT and make you PROUD!

Online Course With Work Experience Opportunities!
A great way to double your chances of getting a job interview is to have some experience working with a Wedding Planner, Wedding Decorator, or Reception Venue.
Ever if its unpaid experience or work experience- it will look favourable on your resume, and show that you have some real life experience working behind the scenes on a wedding. You may have to start at the bottom and do tasks that are basic- like putting on chair covers, or cleaning mirrors- but you will be exposed to so much that happens behind the scenes and what it takes to put an event together.
This way it allows you to  build your list of contacts and a profile within the industry, and you are more likely to hear about opportunities through doing work experience. Often, jobs aren't advertised in the events industry, it's more word of mouth- so being behind the scenes at the right time can certainly get your foot in the door!
La Mode's Fast Track  Online Course in Wedding Planning provides a work experience contact list- so you can contact real life wedding professionals, and line up some practical training to compliment your online study.